Hot damn Sunday's game was sexciting. Canada may have outplayed the US, but the a-MER-icans found a way to win. I didn't sit down the entire first period, I jumped in the air for every Team USA goal, and I found myself squeeing over several different players throughout the game. Who do you think wins the
Squee-Off
for the US in their 5-3 win over Canada? Here are the contenders:
1. Brian Rafalski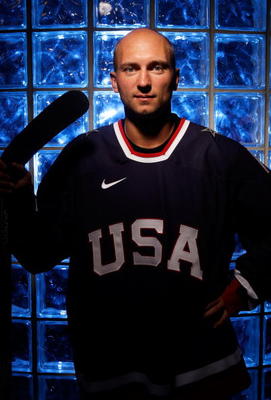 Brian Rafalski, the sex symbol
Ryan Miller attempting to bring sexy back
Ryan Miller
looked like a controlled
Dominik Hasek
in the game against Canada. He was brilliant but never quite crossed the line into "holy-shit-how-did-he-make-that-save-I-bet-he-sold-his-soul-to-the-devil" territory. 42 saves, 3 goals allowed, and a whole lot of
awesomeness
. Girls wanted him, guys wanted him, and everyone wanted to be him tonight. It definitely was
Miller Time
.
3. Ryan Kesler
Who's in style? Yeah, this guy.
First,
he talked shit about the Canadians
before the game, which got
JR's approval
during the pre-game show. Then he secured the win with his amazing one-handed empty-netter, which sent ladies across America throwing their bras at him (on TV). So basically,
Ryan Kesler
went from being a Vancouver darling to pissing all over Canada's Maple Leaf logo. I liked him in the
NHL2K10 commercial
, but now I really like him.
Verdict: Tough call, but the winner goes to Miller. No offense to the backup netminders, but there is no way the US would have won with either
Timmy Thomas
or
Jonathan Quick
in net. Kesler of course is totally squeeworthy but Miller won the game. Let's hope he continues to be absolutely insane in net throughout the remainder of these Games.